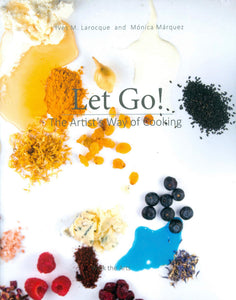 COOKBOOK LAUNCH - LET GO! with authors Yves M. Larocque and Mónica Márquez.
This new book offers a simple and innovative way of cooking based on colour harmonies that will help you release your creativity in the kitchen. Inspired by ITALIAN ART and CUISINE, this book will guide you in your personal adventure to "let go" and become a culinary artist. You will learn how to cook the way artists paint. You will learn how to transform your kitchen into an artist's studio and your meals into works of art.

Mónica and Yves will give practical tips on how to let go and experiment as artists do. The book includes more than one hundred unique and easy to prepare recipes and the tools to create your own. Moreover, each recipe is paired with the appropriate Italian wine that Bottega's Chef Isabelle will recommend.
Let Go! The Artist's Way of Cooking is intended not only for those interested in cooking, but also for art and art history lovers, Italophiles, lifelong learners and everyone seeking to infuse her or his everyday life with beauty and creativity — two essential ingredients for well-being.

INCLUDES - The cocktail style evening will include a dish from the book (modified by La Bottega Chef Isabelle), a glass of wine (5oz.) and meet and greet with the authors. 
Saturday June 4th, 6-7:30pm (in our wine shop/kitchen)
$50
Events are non-refundable or transferrable to another date. Grazie.
We sincerely thank you for your order.  Any questions with your order please email us: orders@labottega.ca