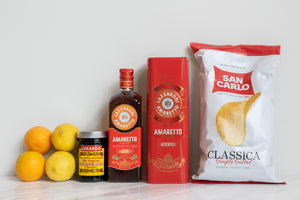 Enjoy aperitivo at home Italian style. 
This liqueur-based cocktail is sweet, bitter, and Italian.  
A
maretto liqueur is bitter, but not that bitter. It's boozy, but not that boozy. And it's sweet, but not that sweet. Italian in origin, the almond liqueur is easy to sip by itself. But add some citrus and sugar, and it becomes a sweet Amaretto Sour, an interesting drink that'll pucker without sucking the moisture right out of your mouth. 
1 bottle Lazzaroni Amaretto (750ml)
1 jar Luxardo Marashino cherries 
2 Lemons
2 Oranges
San Carlo Italian chips
Amaretto sour recipe
Available for contactless curbside pickup or local Ottawa delivery with Trexity.
Please be aware that due to rapid changes in stock availability, we may have to offer substitutions on some items of equal or better quality.  We sincerely thank you for your order.  Any questions with your order please email us: orders@labottega.ca