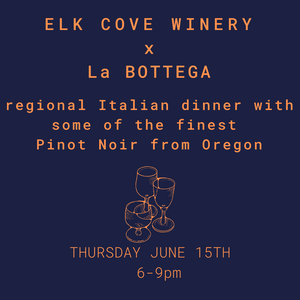 FOR ALL PINOT LOVERS. A BOTTEGA first, we are going to Oregon with a visit from ELK COVE winery. World Class OREGON PINOT NOIR paired with a regional Italian dinner by La BOTTEGA resident Chef Isabelle Larocque.  We are so pleased to welcome Cam Christie from Elk Cove winery and co-host Jeff Osborne for this special dinner. Chef Isabelle Larocque will prepare dishes to pair with four world class Pinot Noirs and one Chardonnay.  In classic cucina style - only 16 seats which makes for great conversation and a memorable evening.

About ELK COVE
The first vineyard and winery in the Yamhill-Carlton AVA, Elk Cove is known for estate grown Pinot Noir & cool climate white wines and is truly one of Oregon's oldest and most respected wine producers.  Elk Cove is led by 5th generation farmer and 2nd generation winemaker Adam Campbell. Family owned since 1974 & 100% estate grown.
The Willamette Valley, Oregon's leading wine region, has two-thirds of the state's wineries and vineyards and is home to more than 700 wineries. It is recognized as one of the premier Pinot noir–producing areas in the world. But why?

Protected from cold Pacific Ocean air and rainstorms on the west by the Coast Range mountains, the Valley follows the Willamette River for more than a hundred miles from the Columbia River near Portland to just south of Eugene. The Cascade Range to the east forms a natural boundary and protects against the opposite extreme: the dry, desert-like climate of eastern Oregon. Overall, the climate boasts a long, gentle growing season: warm summers with cool evenings, a long and lovely autumn with the first rainfalls of winter amid plenty of sunny days, and mild winters followed by long springs.
Four Course Dinner by Chef Isabelle Larocque featuring 5 flagship wines from Elk Cove Winery:
2019 Elk Cove, Pike Road Chardonnay 

2021 Elk Cove, Willamette Valley Pinot Noir 

2021 Elk Cove, La Boheme Pinot Noir 

2021 Elk Cove, Goodrich Vineyard Pinot Noir 

2021 Elk Cove, Mount Richmond Vineyard Pinot Noir 
Wednesday May 17th from  6-9 pm
$190 per person plus tax and gratuity
*Please note to the small event size and menu we are unable to accommodate dietary restrictions.  Dinners are non-refundable or transferrable to another date. Grazie.
We sincerely thank you for your order.  Any questions with your order please email us: orders@labottega.ca