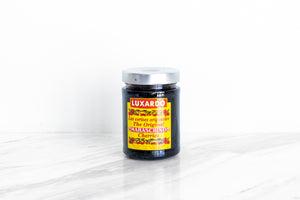 The original Maraschino Cherries made in Italy. 
These are candied cherries soaked in Luxardo marasca cherry syrup. 
Their unique taste comes from the marasca cherry syrup which is made starting from the same juice used to prepare the infusion for the Cherry Liqueur "Sangue Morlacco". Luxardo Maraschino Cherries are unrivalled in their crispness, thanks to a carefully monitored candying process. The syrup itself may be used in many cocktails as a flavoured sugar.