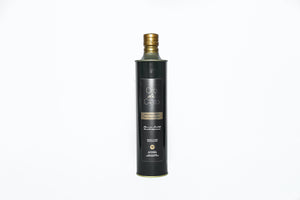 This extra virgin olive oil is made from the best olives in Calabria, Italy.  "Oro di Cleto" extra virgin olive oil has a very low acidity ratio. The fresh taste of Italian olives is captured.  Comes in a beautiful metal bottle.  
The olive groves are situated in a hilly region 300m above sea level. Traditionally, the olives are harvested between mid November and mid December. Oro di Cleto's olives are picked by hand.  Imported to Canada directly for our stores.  
This olive oil is ideal on raw or cooked vegetables, bruschette, grilled meat and any kind of side dishes, and of course on salads.