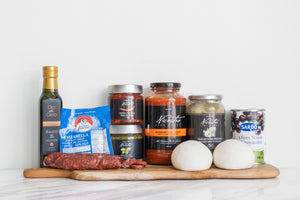 Pizza at home from scratch...well almost. We provide the dough, simply defrost, add toppings, bake and serve.  We went generous on the toppings since snacking during pizza assembly is encouraged.  

Includes:
Frozen pizza dough (4 individual frozen dough balls)

Nicastro Pizza Sauce

Nicastro Basil Pesto
Sliced hot peppers in oil
Grilled artichokes

Olives
Mozzarella Cheese
Cacciatore sausage
Extra virgin olive oil (brush crust before baking and/or drizzle fresh out of the oven)
Add a bottle of wine from our WINE SHOP.
Please be aware that due to rapid changes in stock availability, we may have to offer substitutions on some items of equal or better quality.  We sincerely thank you for your order.  Any questions with your order please email us: orders@labottega.ca