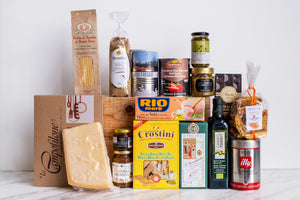 The very best of La BOTTEGA direct from Italy. Our top shelf items from North to South.
Campo di Torri Extra Virgin Olive Oil from Tuscany
Acetaia Picci Balsamic Vinegar from Modena
Acquarello Italian carnaroli rice
Rustichella d'Abruzzo dried pasta
Campofilone egg based pasta
Pesto 
Artichoke spread
Rio Mare olive oil tuna
San Marzano DOP tomatoes
Caper berries
Green olives from Calabria
Dried lentils from Umbria
Italian crackers
Organic chocolate hazelnut spread
Tuscan cantuccini
1kg Parmigiano Reggiano
Truffle honey
Italian chocolate
Illy Espresso beans
Add a bottle of wine from our online shop.
Available for contactless curbside pickup or local Ottawa delivery with Trexity.
Please be aware that due to rapid changes in stock availability, we may have to offer substitutions on some items of equal or better quality.  We sincerely thank you for your order.  Any questions with your order please email us: orders@labottega.ca